WE PROVIDE THE HIGHEST QUALITY OF RESEARCH
EXPERT QUALITY ASSURANCE
We guarantee repeatability, correctness and precision of the conducted research as well as professional evaluation of the results. The conducted researches are recorded and documented in detail.
LAW and REGULATIONS
We operate with compliance to all legal regulations, both in the field of research and the operation of the company.
TEAM
Our team consists of qualified and experienced specialists, what guarantees high quality of services.
CONFIDENTIALITY
We pay particular attention to the confidentiality and security of our Customers' data, as well as to research conducted and obtained results.
In order to provide comprehensive services to our Customers, we constantly expand the scope of undertaken researches and conduct them with the use of modern equipment.
WHY SORBOLAB RESEARCH LABORATORY?
We are one of the leading laboratories in Poland that conducts tests and researches in the Good Laboratory Practice (GLP) system.
We guarantee the highest quality of our research, conducting it in accordance with established standards.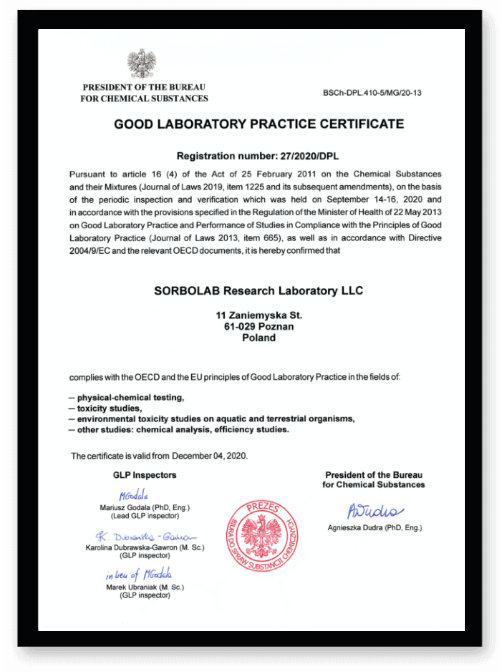 GLP CERTIFICATE
Certificate entitling to conduct tests in the Good Laboratory Practice system (GLP)